---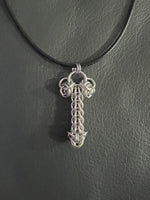 "We chainmaille ALL of the things!"
I
ntroducing the Peendant! Very customizable, from Wee Willy to Magnum Member. Don't want a peendant? We can turn it into a keychain, a bookmark, or even a beautiful pair of dangly earrings!
Want him a bit longer? Bigger, droopier cojones? Full colour, or maybe just a pretty pink hat?
We can make your little buddy in a variety of metals, as well.
We only have a couple of Wee Willy's left, but will be making more in the new year.